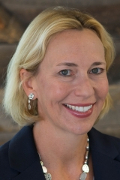 Eleanor Allen (CE MS '97) and 2015 Academy of Distinguished Alumni inductee gave a TED talk on Why Water is a Women's Issue.
Currently Allen is the CEO of Water For People (WFP). Prior to WFP she was the Global Director of Water at ARCADIS.
TED talk synopsis: Every year, 500,000 children die from drinking contaminated water. Until everyone has access to safe and reliable drinking water, the death toll will continue to rise. But is the global water crisis bigger than public health? Join Eleanor Allen in uncovering the reasons why access to water is a women's issue.