On Oct. 4, at its annual gala event, the CEE Academy of Distinguished Alumni inducted the Class of 2018. These 11 individuals, along with all Academy members inducted since 2012, represent Berkeley Engineering's finest traditions of innovation, impact, and service to society. See program.
At what is known as the "event of the year" held at Berkeley's most breathtaking venue, the top of California Memorial Stadium, 200 alumni, faculty, students, and long-time supporters of the Department gathered to celebrate the global impact of CEE alumni, and especially of those individuals who are members of the Academy.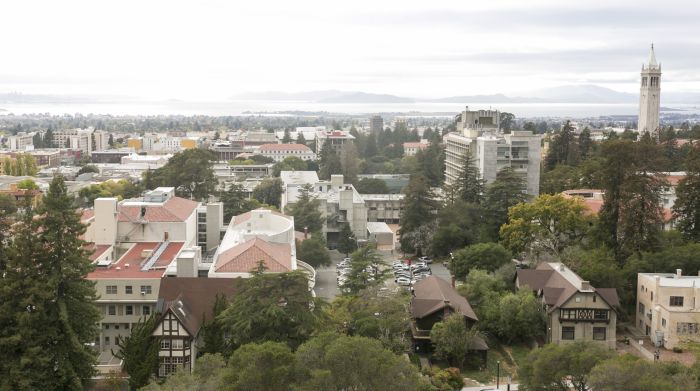 In her welcome to banquet attendees, College of Engineering Dean Tsu-Jae King Liu said, "The founders of the University of California were resolute that Civil Engineering would be one of the first five colleges of the new university. In 1868, California's growth depended on civil engineers. And that remains true today."

Class of 2018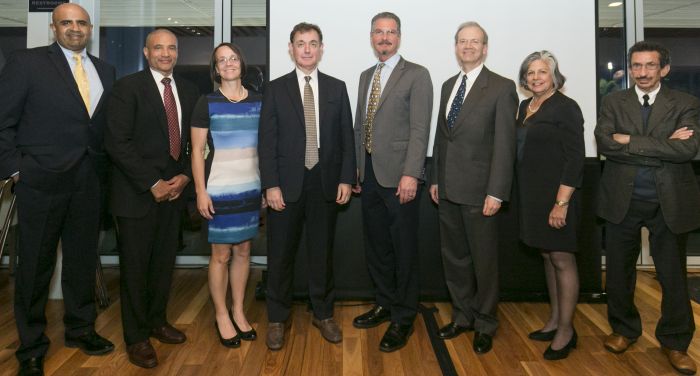 L-R: Balakrishnan Narayanan, Harlan Kelly, Jr., Ellen Rathje, Michael Ortiz, Mason Walters, Lelio Mejia, Susan Leal, and Mohammad Alshaikh  (Not pictured: family members of In Memoriam inductees H. Bolton Seed and Stephen Mahin, and Class of 2017 inductee Edward Kavazanjian, Jr.)
The banquet
Attendees gathered on the balcony to greet one another and enjoy the sweeping view of the Berkeley campus and the San Francisco Bay.
In addition to the inductees, their family and friends, faculty, event sponsors and friends of CEE, were graduate student representatives of each CEE program and undergraduates from the CEE Undergraduate Research Opportunity Program (UROP). 
UROP is, and has been, the beneficiary of the Academy's annual fund-raising efforts. UROP pairs individual students with faculty to work together on open-ended research projects.  This year the Academy raised $60K to aid undergraduate research.
Welcoming remarks
| | |
| --- | --- |
| | Rudolph Bonaparte and David Friedman, ADA Board of Directors President and Vice President respectively, honored the inductees by reviewing the accomplishments of each. |
L-R: Dean Liu and Prof. Nicholas Sitar welcomed everyone to the banquet and thanked generous event sponsors.

UROP senior Tamika Bassman talked about the benefits of UROP.

"UROP  provided me with an invaluable opportunity to engage with graduate-level topics as an undergraduate. My experience working on challenging and meaningful research in academia has led to an internal research project I am leading as an intern with a design firm."
| | | | |
| --- | --- | --- | --- |
| | | | L-R: Accepting citations from Chair Mark Stacey: Mohammad Alshaikh, Harlan Kelly, Jr., Susan Leal. |
| | | | |
| --- | --- | --- | --- |
| | | | L-R: Accepting citations from Mark Stacey: Lelio Mejia, Balakrishnan Narayanan, Michael Ortiz. |
| | | |
| --- | --- | --- |
| | | L-R: Accepting citations from Mark Stacey: Ellen Rathje, Mason Walters. |
The citations of the In Memoriam inductees H. Bolton Seed and Stephen Mahin were read as the Academy honored their posthumous induction.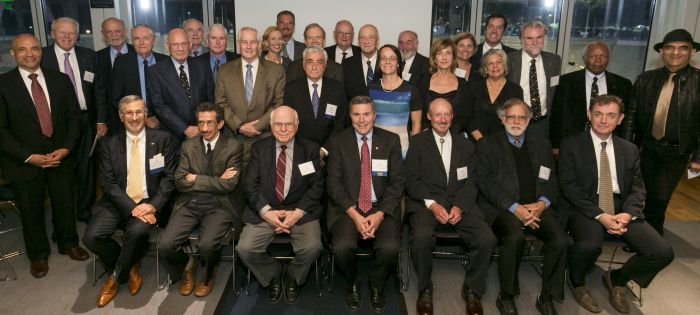 All Academy members present at the banquet. Back row: L-R: H. Kelly, M. Kavanaugh, R. Trussell, E. Wilson, J. Koon, J. Malley, E. Allen, M. Walters, L. Mejia, L. Wyllie, D. Jenkins, R. Whitley, J. Maffei, P. Cocotis, S. Monismith, J. Hilliard, A. Habibullah. Second row from back, standing:  R. Taylor, D. Magnusson, A. Kanafani, E. Rathje, S. Hubbard, S. Leal. L-R seated: D. Friedman, M. Alshaikh, Joe Rashid, R. Bonaparte, R. McGuire, J. Becker, M. Ortiz.
See ADA members' bios.
All photos courtesy of Ian Chin.
Individual and Corporate Sponsors
The Academy has many enthusiastic friends that support both the annual banquet and CEE students. This year, the ADA was able to raise $60K to support CEE undergraduate research.
We are grateful for the continued support of the corporate and individual sponsors listed below.
 
Blue Sponsors ($6000) - Individual
Rudolph & Anna Bonaparte
David Friedman & Paulette Meyer
Robin K. & Rose M. McGuire
Blue Sponsors ($6000) - Corporate
---
Gold Sponsors ($3000) - Individual
Jim Becker & Aber Lynch
Uri & Cindy Eliahu
Susan Leal & Susan Hirsch
Jim & Cathy Koshland
Patrick & Sally Lucia
Lelio & Sandra Mejia
Gold Sponsors ($3000) - Corporate
---
Silver Sponsors ($1500) - Individual
John Gaston
Robert Harley
Michael C. Kavanaugh & Carol James
Y.R. (Joe) & Janice M. Rashid
Professor & Mrs. Robert L. Taylor
Silver Sponsors ($1500) - Corporate
AECOM
DPR Construction
Granite
HDR
Jack P. Moehle, Inc.
John H. Koon & Associates
Kennedy/Jenks Consultants
San Francisco Water Power Sewer
Magnusson Klemencic Associates
Simpson Gumpertz & Heger
Stantec
---
Bronze Sponsors ($750) - Individual
Mohammad A. Alshaikh
John A. Baker
Reginald DesRoches
Gregory L. Fenves
Jefferson Hilliard
Susan S. Hubbard
Adib & Karin Kanafani
Richard Luthy
Samer Madanat
Janielle Maffei & Rob Tovani
James & Jill Malley
Marwan Nader & Rula Deeb
Larry L. Russell & Grace K. Livingston
Mark Stacey
Bronze Sponsors ($750) - Corporate
AECOM [Civil Construction]
Black & Veatch
Ramboll
Trussell Technologies Inc.
Wadell Engineering Corporation
WJE