At its annual October gala event, the CEE Academy of Distinguished Alumni inducted the 10 individuals of the Class of 2019. All Academy members, from the 2012 inaugural ADA class to the Class of 2019, are remarkable Berkeley engineers who have pushed the boundaries of their fields.
We celebrate and thank the members for their work and achievements. They make Berkeley proud!
The "event of the year" held at Berkeley's most breathtaking venue, the top of California Memorial Stadium, was attended by over 150 alumni, faculty, students, and long-time supporters of the CEE Department.  See program.
They came together to celebrate the global impact of CEE alumni.
In addition to the inductees, their family and friends, faculty, event sponsors and friends of CEE, undergraduate student leaders of CEE's teams and organizations joined in the celebration.
Class of 2019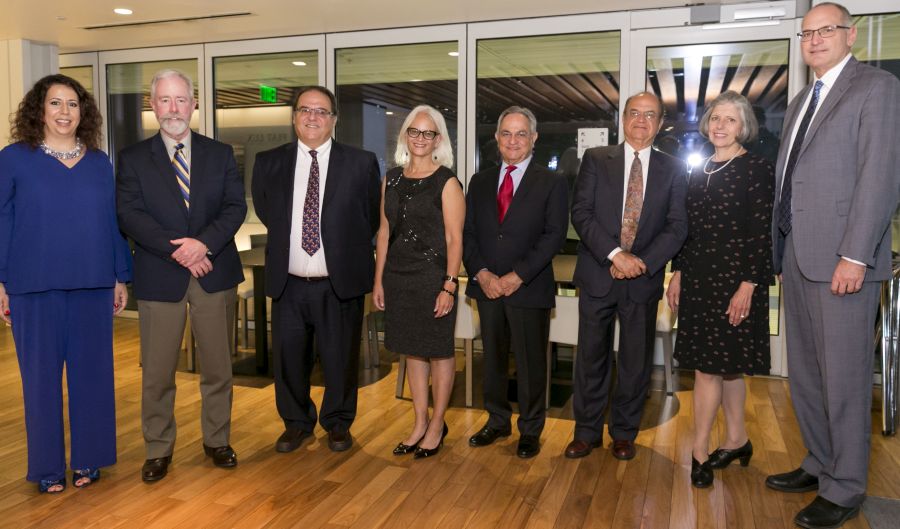 L-R: Rula Deeb, Raymond Seed, Benito Mariñas, Therese McMillan, Faiz Makdisi, Farhang Ostadan, Mary Comerio, Ron Klemencic.
Reception and banquet
Welcoming remarks
"There couldn't be a more beautiful setting than this for looking out at the campus and thinking about its impact—your impact—on California and the world," said Executive Associate Dean Karl van Bibber.
| | |
| --- | --- |
|   | "The view presents a microcosm of what civil and environmental engineers achieve: the buildings and bridges of our skylines; the bay, shoreline, air, water and all of the environmental resources you manage and protect; our infrastructure, from roadways and airports to the soils and geologic systems; and the many challenges you help us meet, from energy to climate change remediation." |
| | CEE Advisory Council Chair Susan Leal spoke of the purpose of the Academy of Distinguished Alumni, that is, "to honor our inductees and support the students in the Civil and Environmental Engineering Department." |
Funds raised by the Academy in 2019 will support CEE's goal of providing every CEE major with a "Discovery Experience" as part of their undergraduate education. A past example of a discovery experience was CEE's Undergraduate Research Opportunity Program (UROP) which was launched and grown by the Academy.
 
This year ADA support broadened its focus by supporting the CEE Department and student leaders as they host the ASCE Mid-Pacific Regional Conference (MidPac 2020). 

Banquet sponsors of the ADA raised $65K to support the three-day event in April 2020, where nearly 800 students from around the Pacific Rim will arrive in Berkeley for competition, collaboration and celebration.
| | |
| --- | --- |
| | ASCE student chapter president Amber Chau and former Steel Bridge project manager Sarah Cook described how the "discovery experience" offered by extra-curricular team and organization participation gave them the opportunity to apply engineering knowledge to real-life problems, develop their leadership skills, and to connect with under-served communities. |
| | | |
| --- | --- | --- |
| | | ADA Chair Rudolph Bonaparte and Vice Chair David Friedman honored the inductees by reviewing career highlights and accomplishments of each. |
 

Accepting citations from CEE Chair Mark Stacey: Mary Comerio, Rula Deeb, and Ron Klemencic.

 

 
| | | | |
| --- | --- | --- | --- |
| | | | L-R: Accepting citations from Mark Stacey: Faiz Makdisi, Benito Mariñas, and Therese McMillan. |
L-R: Accepting citations from Mark Stacey: Farhang Ostadan and Raymond Seed.

 
The citation of In Memoriam inductee Harmer E. Davis
was accepted by his daughter, Lynn Murphy.
The citation of In Memoriam inductee Henry J. Ongerth
was accepted by his son, Jerry Ongerth.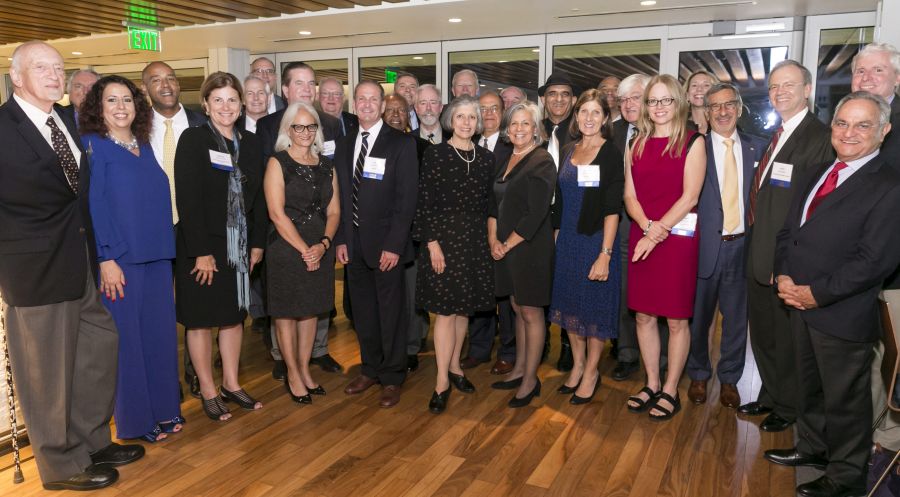 All Academy members present at the banquet. Back row: L-R: Edward Wilson, Reginald DesRoches, Jon Magnusson, Ron Klemencic, Robert Wadell, Loring Wyllie, Jefferson Hilliard, Rudolph Bonaparte, Raymond Seed, Michael Kavanaugh, Farhang Ostadan, Robert Whitley, Ashraf Habibullah, Balakrishnan Narayanan, Peter Yanev, Eleanor Allen, David Friedman, Lelio Mejia, James Malley, Faiz Makdisi. Front row L-R: David Jenkins, Rula Deeb, Janiele Maffei, Therese McMillan, Uri Eliahu, Mary Comerio, Susan Leal, Maryann Phipps, Elizabeth Hausler.
See ADA members' bios.

All photos courtesy of Ian Chin.
 
Individual and Corporate Sponsors
The Academy has many committed friends that support both the annual banquet and CEE students. 
We are grateful for the support of the corporate and individual sponsors listed below.
 
Blue Sponsors ($6000) - Individual
Rudolph & Anna Bonaparte
David Friedman & Paulette Meyer
Robin K. & Rose M. McGuire
Blue Sponsors ($6000) - Corporate
---
Gold Sponsors ($3000) - Individual
Uri & Cindy Eliahu
Jim & Cathy Koshland
Faiz Makdisi
Lelio & Sandra Mejia
Larry L. Russell & Grace Livingston
Bernard Saunier
Professor Robert Taylor
Gold Sponsors ($3000) - Corporate
---
Silver Sponsors ($1500) - Individual
Jim Becker
John Gaston
Susan Leal & Susan Hirsch
Susan B. Hubbard
Michael C. Kavanaugh & Carol James
Janiele Maffei & Rob Tovani
Marwan Nader & Rula Deeb
Y. R. (Joe) Rashid & Janice M. Rashid
Michael Selna
Silver Sponsors ($1500) - Corporate
Arup
Castellón & Funderburk LLP
Granite
Jack P. Moehle, Inc.
John H. Koon & Associates
Kennedy/Jenks Consultants
San Francisco Water Power Sewer
Wadell Engineering Corporation
---
Bronze Sponsors ($750) - Individual
Mohammad A. Alshaikh
Professor Anil Chopra
Reginald DesRoches
Gregory L. Fenves
Robert Harley
Jefferson Hilliard
Julie Labonte
Richard Luthy
James & Jill Malley
Mark Stacey
Rhodes & Liz Trussell
Bronze Sponsors ($750) - Corporate