Last week, Professor Alex Bayen's E7 class reached a new level in student engagement in lecture, with the introduction of 3D anaglyph visuals as a bonus part to the curriculum. Led by GSI Jonathan Beard, the class learned how to transform their standard 3D MATLAB plots into stereoscopic 3D plots, using similar methods to those employed by 3D movies.
After students were given the 400 anaglyph red-&-cyan 3D glasses just in from China, the class followed Beard's demonstration with enthusiasm, culminating in a wooooooooohhhh when the Lorenz attractor (a common 3D plot in nonlinear control theory) started spinning out of the projector screen straight at them.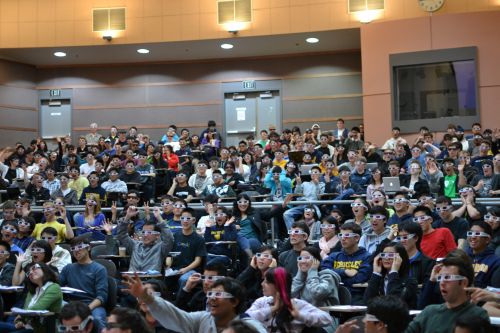 "Our belief is that, by engaging students enough in their assignments and lecture, they will have a hard time forgetting the material," Beard said, himself a past E7 student.
In their last assignment, E7 students will watch their 3D solutions come to life on their own computers with Beard's provided MATLAB function and their new 3D glasses.
Later that same week, GSI Ryan Swick introduced the famous Cal a cappella group, Noteworthy, to the class, in a very special remix of Lady Gaga's "Poker Face". The song, renamed "Diffy Queue", illustrated concepts in ordinary differential equations (ODEs) covered in class.  See video below.
(Lyrics mixing ODEs, Euler explicit and Runge Kutta schemes, the good oldies of numerical analysis, were composed by GSIs Leah Anderson, Robert Hansen and Ryan Swick.)
"Composing the lyrics to get E7 material into the song was somewhat challenging but fun, and certainly contributes to establishing an identity among students of the class," Anderson said.
Earlier in her studies at UC Berkeley, Anderson had become famous among her peers for performing an entire final project presentation in the class CE291/EE291/ME236 … in rap.