This past August, a group of CEE undergraduates decided that this year Berkeley was going to have an entry in Earthquake Engineering Research Institute's (EERI) Undergraduate Seismic Design Competition.
The competition will be held in conjunction with EERI's annual meeting in Seattle, Washington, Feb. 12-15. There will be 35 schools from the US and Canda participating.
Participants are required to design a multi-story building for Seattle, Washington, according to a variety of specifications, and then build a scaled balsa wood model based on that design. The model will be subjected to 3 ground motions, or earthquakes, of increasing magnitude. The model must not collapse.
The 12-member CEE team began this project from scratch, with little more than a characteristic Berkeley can-do attitude. Their faculty advisor, Professor Filip Filippou, started them off with, "Do the research."

They poured over Professor Anil Chopra's classic text, Dynamics of Structures and Googled all web and Youtube sites on former competition models. They sought advice from SEMM Professors Hassan Astaneh, Jack Moehle, Steve Mahin, in addition to Filippou.

Over the winter break, the team put in 10-hour days constructing the balsa wool model.
And being Berkeley students, they said, "Let's incorporate a never-been-done-before element into our design." They think (hope) this unique feature will keep their structure from collapsing. (More will be revealed on the feature after the competition.)
Team Captain Charles Mendoza says, "We have a decent chance of actually surviving this year!"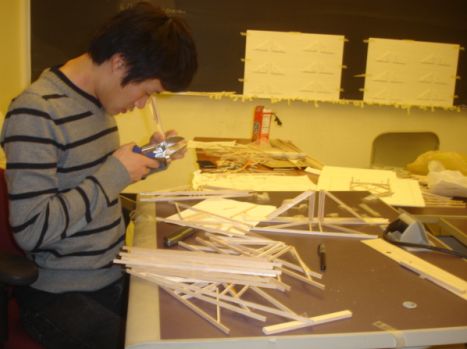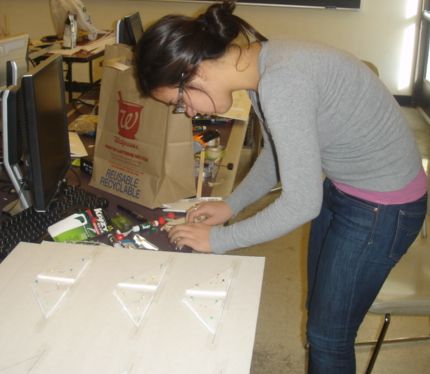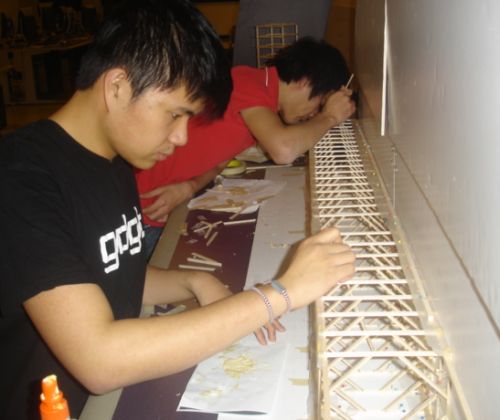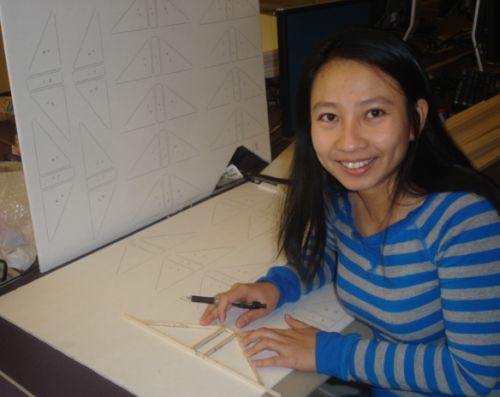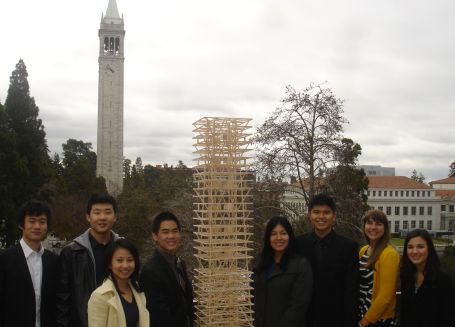 Team leaders: Charles Mendoza (captain); Chris Tung (materials lead); Thu H.P. Nguyen (fabrications lead); Angelu Zhu (treasurer); Hong Yang Gao (analysis/design lead).
General members: Andreanna Tzortzis, Adriana Segurado, Tammie Kuo, Itria Licitra, Joseph Reid, Jason Chen, and Steven Chen.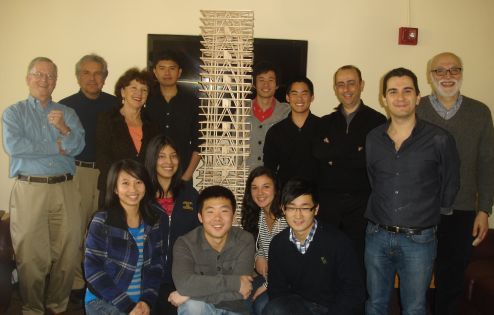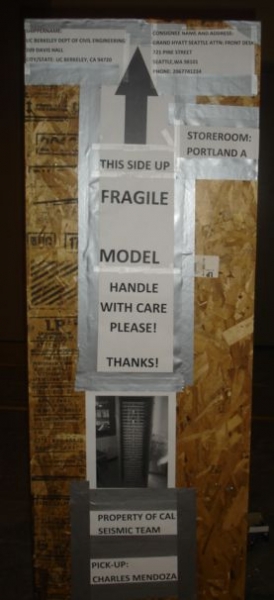 (L) CEE faculty gathered at the department's send off to the team. (R) The model.  Ready for shipping.