Did you know that Julia Morgan is a graduate of Berkeley's Department of Civil and Environmental Engineering?
Julia Morgan, American architect, first woman architect licensed in California, designer of over 700 buildings in California—including Hearst Castle in San Simeon, CA—graduated in 1894 from what was then Berkeley's College of Civil Engineering. She was the only woman in her engineering class.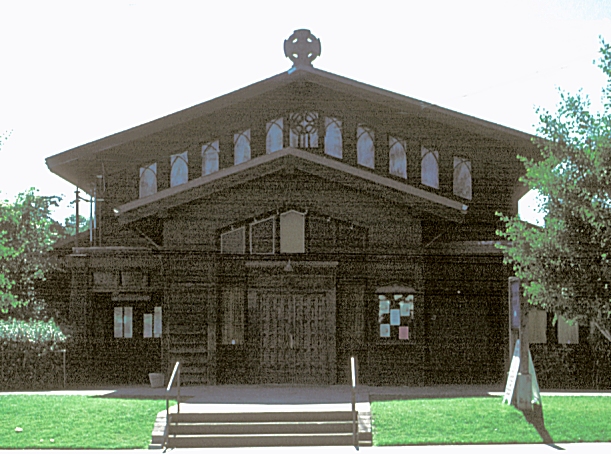 St. John's Presbyterian Church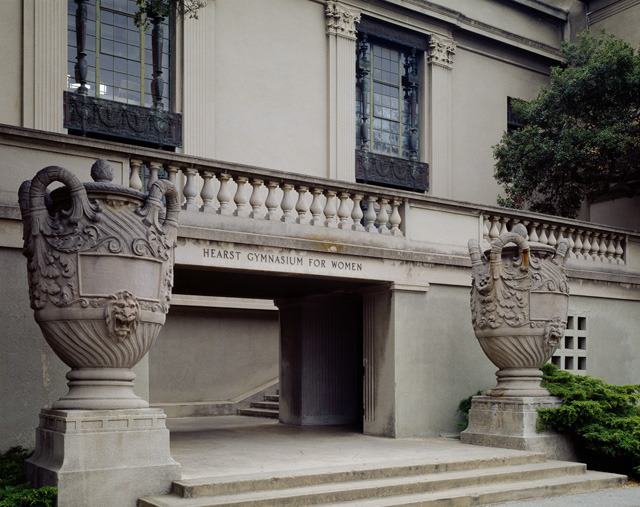 Hearst Gymnasium for Women, UC Berkeley

Hearst Castle
At Berkeley, Morgan took a rigorous selection of basics and technical subjects: (Copy of Julia Morgan's transcript follows.)
1890-91: English, Themes, Summaries, French, Geometry, Algebra, Analytical Geometry, Trigonometry, El. Chemistry, Phys. Culture.
1891-92: Physics, Calculus, English Lit to Res., French, Deser.Geom., Freehand Drawing, Themes(?), Phys. Cult., Eng. Lit. for Res., Pol. Econ.', Phys. Lab.
1892-93: Anal. Mech., Adv. Physics, Phys. Lab., Mech. Draw., Zoology, Geology, Graphostatics.
1893-94: Ali (?) of Mat., Physics, Construction, Mat. of Eng. Con., English, Eng. Struct., Sanit. Engin., Spec (?) Constr., Thesis.
BS, May 15, 1894
One of the engineering lecturers of her senior year was Bernard Maybeck, who designed buildings that Morgan admired for their respect for the surrounding topography and environment. Maybeck mentored Morgan in architecture at his Berkeley home. He encouraged her to continue her studies at the prestigious École nationale supérieure des Beaux-Arts in Paris. In 1896, Morgan headed to Paris to the Beaux-Arts school, even though they had never before allowed a woman to study architecture.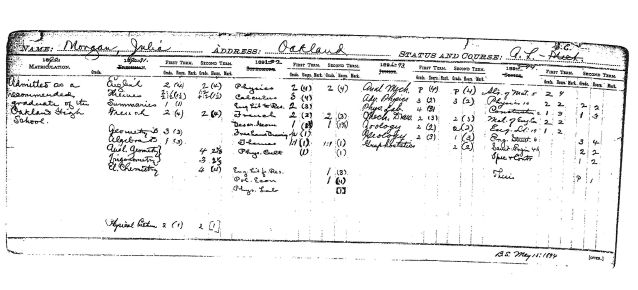 See (pdf) Julia Morgan's application for her Architecture license.