Secretary of the Smithsonian Institution G. Wayne Clough (CEE PhD '69, 2013 inductee of the CEE Academy of Distinguished Alumni) was the honored speaker at the CEE Fall Distinguished Lecture in October.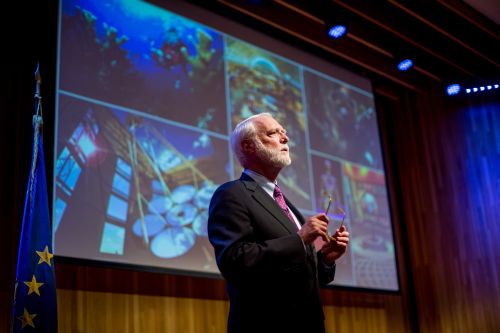 A packed Sibley Auditorium listened to From the Eocene to the Anthropocene: An Engineer's View of Climate Change, in which Clough focused on Smithsonian science in multiple disciplines that is adding to the body of evidence about climate change and its consequences, and how that information can guide engineers' thinking in creating a more sustainable, more resilient future.
Secretary Clough has achieved national prominence at 3 distinctly different stages of his career. First, he achieved prominence as a teacher and researcher in geotechnical engineering while on the faculty of Duke, Stanford, and Virginia Tech. His focus was in the areas of soil-structure interaction, finite element methods applied to geotechnical problems, and geotechnical characterization of cemented sands.
Second, he became a renowned university administrator and leader, first as Dean of Engineering at Virginia Tech, then as Provost at Washington, and finally as President of Georgia Tech.
Third, since 2008, he has served as Secretary of the Smithsonian where he has had a substantial positive impact on this major institution and national treasure.  
The 2014 Fall CEE Distinguished Lecture was presented with generous support from the Warren A. and Marjorie C. Minner Endowment for Engineering Ethics and Professional & Social Responsibility, which supports the College of Engineering in its mission to impart to its students the principles and foundations of ethical responsibility.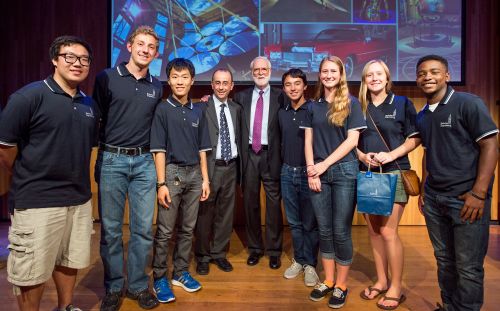 Secretary Clough with ASCE student leaders.  All photos by Noah Berger.