Norman Abrahamson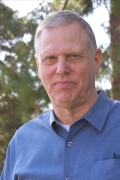 Earthquake ground motions, spectral attenuation relations
Office Hours:
No scheduled office hours this semester
Biography
Dr. Abrahamson has been involved in strong motion seismology for 18 years. He has extensive experience in the practical application of seismology to the development of deterministic and probabilistic seismic criteria (response spectra, and/or time histories) for engineering design or analyses. He has been involved in developing design ground motions for hundreds of projects including dams, bridges, nuclear power plants, nuclear waste repositories, water and gas pipelines, rail lines, ports, landfills, hospitals, electric substations, and office buildings. About 3/4 of these projects have been in the Western US and the other 1/4 have been in the Eastern US or outside of the US.

At PG&E, Dr. Abrahamson is responsible for developing ground for seismic evaluations of PG&E facilities including nuclear power plants, nuclear waster storage, dams, penstocks, electric substations, office buildings, and gas pipelines. He is also responsible for the technical management of the PG&E seismic research program funded through the Pacific Engineering Research Center.

As a consultant, Dr. Abrahamson has been involved in the ground motion studies for several major engineering projects in California. Recent projects include the Caltrans major toll bridge retrofit projects, the CalFed project for the Sacremento Delta levee system, the BART seismic retrofit project, and the SFO expansion. He has been involved in developing ground motion for nuclear plants and dams in the United States and in other countries. He served as the leader of the ground motion characterization team for the proposed high level nuclear waste repository at Yucca Mountain.
Education
Ph.D., Geophysics, University of California at Berkeley, 1985
B.A., Geophysics, University of California at Berkeley, 1981