Thomas W. Kirchstetter
QUANTIFYING EMISSIONS FROM DIESEL TRUCKS: PERFORMANCE AND DURABILITY OF PARTICLE FILTERS AND SELECTIVE CATALYTIC REDUCTION TECHNOLOGIES
Diesel engines are major sources of black carbon (BC), a major constituent of particulate matter (PM) emitted in diesel exhaust, and nitrogen oxides (NOx). To reduce these emissions and their associated adverse effects on human health and the environment, new heavy-duty diesel trucks sold in the U.S. are typically equipped with diesel particle filter (DPF) and selective catalytic reduction (SCR) systems. Similar approaches are being used in other parts of the world to control diesel engine emissions. Nationwide, reductions in emissions are expected to occur over a time scale of several decades, as new trucks equipped with these emission control systems replace older, higher emitting trucks. California has mandated a more rapid transition to cleaner engines by first requiring the retrofit or replacement of older diesel drayage trucks that serve ports and rail yards beginning in 2010, followed by the modernization of the on-road heavy-duty truck fleet operating statewide beginning in 2012.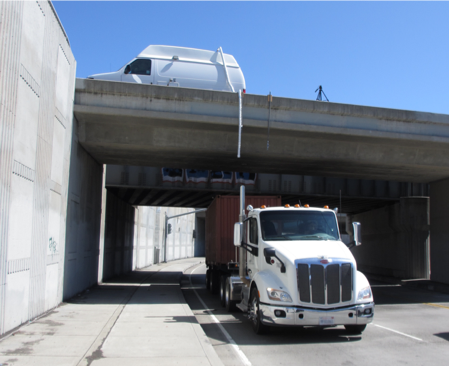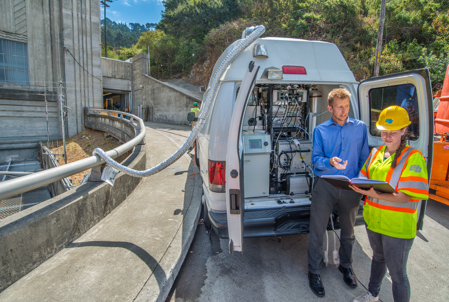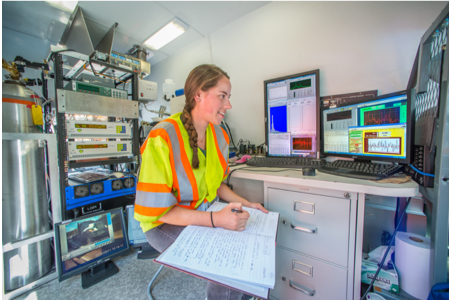 UC Berkeley's Kirchstetter, Harley, and Preble are leading research to measure the in-use performance and durability of particle filters and selective catalytic reduction on heavy-duty diesel trucks, and to verify the emission benefits, as well as unintended consequences, of California's retrofit/replacement policies. Postdoctoral researcher Chelsea Preble (shown in instrumented research van below) recently published three papers that show marked reductions in black carbon and nitrogen oxide emissions but increases in emissions of nitrogen dioxide, nitrous oxide, and ammonia associated with increasing use of DFP and SCR technologies, as well as evidence that a small fraction of trucks contribute the majority of pollution emitted from all in-use highway trucks. 
Selected publications: 
Preble, CV; Harley, RA; Kirchstetter, TW (2019) Control Technology-Driven Changes to In-Use Heavy-Duty Diesel Truck Emissions of Nitrogenous Species and Related Environmental Impacts, Environ. Sci. Technol., doi:10.1021/acs.est.9b04763
Preble, CV; Cados, TE; Harley, RA; Kirchstetter, TW (2018) In-use performance and durability of particle filters on heavy-duty diesel trucks, Environ. Sci. Technol., doi: 10.1021/acs.est.8b02977
Preble, CV, Dallmann, TR; Kreisberg, NM; Hering, SV; Harley, RA; Kirchstetter, TW (2015) Effects of particle filters and selective catalytic reduction on heavy-duty diesel drayage truck emissions at the Port of Oakland, Environ. Sci. Technol., doi:10.1021/acs.est.5b01117
Dallmann, TR; Onasch, TB; Kirchstetter, TW; Worton, DR; Fortner, EC; Herndon, SC; Wood, EC; Franklin, JP; Worsnop, DR; Goldstein, AH; Harley, RA (2014) Characterization of particulate matter emissions from on-road gasoline and diesel vehicles  using a soot particle aerosol mass spectrometer, Atmos. Chem. Phy. Discuss, doi: 10.5194/acpd-14-4007-2014. 
DEVELOPING NEW AIR POLLUTANT SENSING TECHNOLOGIES FOR COMMUNITIES: THE 100X100 BLACK CARBON AIR QUALITY STUDY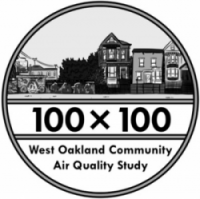 Black carbon emissions from fossil and biomass fuel combustion pose a health concern to urban and rural communities in developed and emerging economies. Black carbon is a major component of diesel particulate matter, a toxic and carcinogenic pollutant, and is a short lived climate pollutant that absorbs sunlight in the atmosphere and when deposited on snow and ice. Black carbon emissions contribute to climate change with a radiative forcing on par with methane.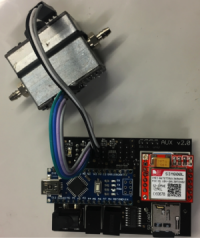 The spatial distribution of black carbon in the atmosphere is heterogeneous, which makes it difficult to assess personal exposures and climate impacts. Professor Kirchstetter's research group recently developed a small, low-cost black carbon sensor (pictured above) and the created a first-of-its kind community black carbon air quality network. Leading this work with Kirchstetter are graduate students Julien Caubel and Chelsea Preble and UCB's research specialist Troy Cados.  Partnering with the West Oakland Environmental Indicators Project (WOEIP), the Environmental Defense Fund, and with support of the Bay Area Air Quality Management District, the UC Berkeley research team led a study of the spatial and temporal patterns of black carbon air pollution in West Oakland. The study - called the 100 x 100 West Oakland Community Air Quality Study - built and operated a network of 100 black carbon sensors for 100 days.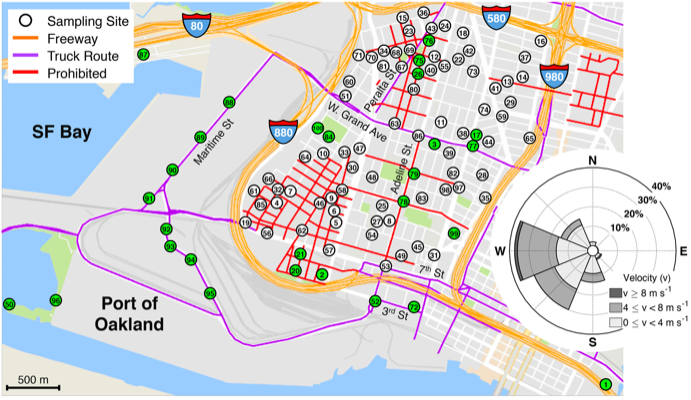 The study transformed the black carbon sensing landscape - turning what was a neighborhood with a single monitor into the picture shown to the left. The goal was to generate new information about air pollutants in the community and a better understanding of how black carbon from diesel engines and other sources vary within residential community, including with distance from freeways, truck routes, and industrial facilities. The study provides an opportunity to evaluate the benefits of a network of air pollution sensors dispersed within a community over the traditional approach of monitoring air pollution at centrally located sites.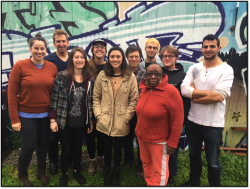 Pictured right are postdoctoral fellow Chelsea Preble; Prof Kirchstetter; undergraduate students Annie Rosen, Kelly Archer, and Shannon Chang; Berkeley Lab's Jonathan Slack; undergraduate student Carter Keeling; WOEIP's Ms. Margaret Gordon; graduate student Julien Caubel; and UCB's research specialist Troy Cados. 
Selected publications: 
Caubel, JJ; Cados, TE; Prevle, CV; Kirchstetter, TW (2019) Distributed Network of 100 Black Carbon Sensors for 100 Days of Air Quality Monitoring in West Oakland, California, Environ. Sci. Technol., doi:10.1021/acs.est.9b00282
Caubel, JJ; Cados, TE; Kirchstetter, TW (2018) A New Black Carbon Sensor for Dense Air Quality Monitoring Networks, Senosrs, 18, 738
Apte, JS; Messier, KP; Gani, S; Brauer, M; Kirchstetter, TW; Lunden, MM; Marshall, JD; Portier, CJ; Vermeulen, RCH; Hamburg, SP (2017) High-resolution air pollution mapping with Google Street View cars: exploiting big data, Environ. Sci. Technol., doi: 10.1021/acs.est.7b00891
Related information: 
https://www.edf.org/media/study-web-sensors-shows-how-pollution-varies-over-space-and-time
https://www.edf.org/airqualitymaps/oakland/study-shows-how-pollution-changes-over-space-and-time
QUANTIFYING EMISSIONS FROM DRY ANAEROBIC DIGESTION OF MUNICIPAL SOLID WASTE-TO-ENERGY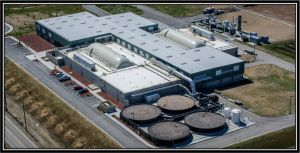 UC Berkeley and Lawrence Berkeley National Lab, supported by the California Energy Commission, are partnering with the Zero Waste Energy Development Company (ZWEDC) to better quantify the emissions benefits and policy and economic barriers to converting organic municipal solid waste to energy. ZWEDC operates the world's largest anaerobic digestion facility in the world. Diversion of waste for the anaerobic production of biogas reduces landfill methane emissions (which comprise 20% of California's anthropogenic methane inventory), supports municipal "zero-waste" goals, and helps California build its renewable energy portfolio. 
The research team is quantifying emissions of greenhouse gases, odorous compounds, and other air pollutants associated with anaerobic digestion, conversion of biogas to electricity, and composting processes; conducting life-cycle cost, energy and greenhouse gas assessments to enable maximum economic and environmental performance of waste-to-energy facilities; and evaluating policy and economic barriers that inhibit scale-up and additional net energy export. 
Selected publications:
Satchwell, AJ; Scown, CD; Smith, SJ; Amirebrahimi, J; Jin, L; Kirchstetter, TW; Brown, NJ; Preble, CV (2018) Accelerating the Deployment of Anaerobic Digestion to Meet Zero Waste Goals, Environ. Sci. Technol., doi: 10.1021/acs.est.8b04481
BLACK AND BROWN CARBON: OPTICAL PROPERTIES AND SURFACE ALBEDO REDUCTION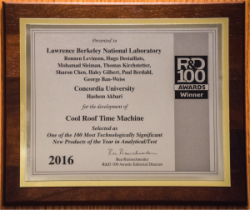 Sunlight absorbing aerosols produced from fossil and biomass burning perturb earth's radiation balance with space. Several studies of absorption selectivity (the dependence of absorption on wavelength) have demonstrated that primary organic aerosol (POA) produced from biomass burning - including wildfires over southern Africa, residential fireplaces, and biomass cookstoves - is a significant contributor to aerosol absorption of sunlight in the atmosphere.
On the earth's surface, black carbon continues to interact with sunlight. Professor Kirchstetter and former Ernest Orlando Lawrence Postdoctoral Fellow, Odelle Hadley, conducted a laboratory study of home-made sooty snow and characterized the albedo reduction as a function of black carbon contamination level and snow grain size. The study was funded by the California Energy Commission and the Department of Energy Atmospheric Systems Research (
summary
 and 
publication
).
Related research conducted at Berkeley Lab on the loss of solar reflectance of roofs led to a method for accelerated soiling of roofing products that mimics reflectance loss due to natural exposure and a 2016 R&D 100 Award in 2016 for the "Cool Roof Time Machine." Check out Berkeley Lab's
Heat Island Group website
for more information about this and other
cool
projects.
Selected publications:
BLACK CARBON AND ENERGY TRENDS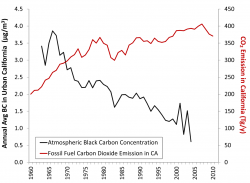 Long-term pollutant concentration trends can be useful for evaluating air quality effects of emission controls and historical transitions in energy sources. A recent 
study
employed archival records of coefficient of haze (COH), a now-retired measure of light-absorbing particulate matter, to re-construct historical black carbon concentrations at urban locations in the United States. Estimated BC concentrations in ten states stretching from the East to West Coast decreased markedly between 1965 and 1980: 5-fold in Illinois, Ohio, and Virginia, 4-fold in Missouri, and 2.5-fold in Pennsylvania. Over the period from the mid-1960s to the early 2000s, annual average black carbon concentrations in New Jersey and California decreased from 13 to 2 µg m3 and 4 to 1 µg m3 , respectively, despite concurrent increases in fossil fuel consumption from 1.6 to 2.1 EJ in New Jersey and 4.2 to 6.4 EJ in California. New Jersey's greater reliance on black carbon-producing heavy fuel oils and coal in the 1960s and early 1970s and subsequent transition to cleaner fuels explains why the decrease was larger in New Jersey than California. Over the period of study, declining concentrations of black carbon, a potent and short-lived climate warming pollutant, contrast increasing fossil fuel CO2 emissions in the U.S. 
Selected publications:
Kirchstetter, TW; Preble, CV; Hadley, OL; Bond, TC; Apte, JS (2017) Large reductions in urban black carbon concentrations in the United States between 1965 and 2000, Atmos. Environ., 151, 17-23, doi:10.1016/j.atmosenv 2016.11.001
Kirchstetter, TW; Aguiar, J; Tonse, S; Novakov, T; Fairley, D. (2008) Black carbon concentrations and diesel vehicle emission factors derived from coefficient of haze measurements in California: 1967-2003. Atmos. Environ., 42, 480-491.
Novakov, T.; Ramanathan, V.; Hansen, J.; Kirchstetter, T.W.; Sinton, J.E.; Sathaye, J.A. (2003) Large historical changes of fossil-fuel black carbon aerosols.  Geophys. Res. Letters, 30, 10.1029/2002GL016345.