Ashok Gadgil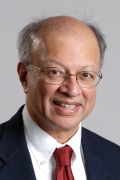 Andrew and Virginia Rudd Family Foundation Chair Professor of Safe Water and Sanitation
Senior Faculty Scientist, LBNL
Professor
Energy, Civil Infrastructure and Climate, Environmental Engineering
Office Hours:
During Spring 2023 (for teaching weeks): 
Tuesdays 3:10PM - 4:00PM  Room 423 Davis Hall.    Drop-in basis.  No booking of slots required.
If that time does not work and you need to meet, please email me and we will figure out something.
Biography
Ashok Gadgil has a PhD in physics from UC Berkeley.  He is an Andrew and Virginia Rudd Family Foundation Chair Professor of Safe Water and Sanitation and a Professor of Civil and Environmental Engineering at UC Berkeley. Gadgil's research focus includes computational fluid dynamics of indoor air and pollutant flows, simulation of entry and transport of indoor radon, building energy efficiency, and methods to treat drinking water to make it potable. Gadgil holds a concurrent appointment as a Senior Faculty Scientist at Lawrence Berkeley National Laboratory (LBNL). He has more than 150 refereed archival journal papers, 120 conference papers, and several patents. Gadgil has received numerous honors and awards for his work.  These include the prestigious Zuckerberg Water Prize, LBNL Director's Award for Exceptional Achievement in Societal Impact, and the Patents for Humanity Award.
Education
Ph.D. Physics, University of California, Berkeley, 1979
M.A. Physics, University of California, Berkeley, 1975
M.Sc. Physics, Indian Institute of Technology, Kanpur, 1973
B.Sc. Physics, University of Bombay, 1971