Baoxia Mi
Wood-Calvert Chair in Engineering
Research Interests
Membrane separation, Desalination, Water purification, Wastewater reuse, Environmental applications of nanomaterials

Office Hours
Wed, 11 am to 1 pm
Fri, 11 am to 12 pm
By appointment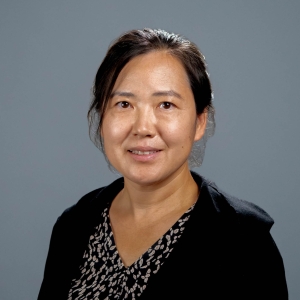 Baoxia Mi is a Wood-Calvert Chair in Engineering and an Associate Professor of Civil and Environmental Engineering at UC Berkeley. Mi's research focuses on studying physicochemical processes with an emphasis on advanced membrane processes and nanotechnology to address some of the most challenging issues in sustainable water supply (desalination, drinking water purification, wastewater reuse), renewable energy production, and public health protection. She is a recipient of the prestigious Hellman Fellows Award in 2017, the CAPEES/Nanova Young Investigator Award in 2017, and the NSF Faculty Early Career Development (CAREER) Award in 2014, among other notable accomplishments.
Education
Ph.D., Environmental Engineering, University of Illinois at Urbana-Champaign, 2006
M.S., Environmental Engineering, Tianjin University, 2001
B.S., Civil Engineering, Tianjin University, 1998
Mi's research focuses on physicochemical processes emphasizing nanomaterials and membrane science/technology for drinking water purification and wastewater reuse. She directs the research and educational activities of the Membrane Innovation Laboratory (MIL). Here are a few of the research projects Mi is currently working on below:
Graphene-Enabled, High-Performance Membranes for Enhanced Energy Efficiency - 

Dwindling water resources and increasing water demands have forced us to consider treating water from non-traditional sources that may contain contaminants typically overlooked in conventional water treatment. Besides, new water contaminants (e.g., pharmaceuticals and endocrine-disrupting compounds) are constantly emerging, and many of these contaminants have potential adverse health effects and thereby have raised severe public concerns over water safety.  Membrane processes are among the most effective strategies for removing contaminants from water. However, today's membrane-based water separation, in general, suffers from high energy consumption. Therefore, it is very desirable to discover new materials to make high-performance membranes that will require much lower energy consumption.  Mi's research group focuses on using novel nanomaterials and innovative methods to synthesize the next-generation, high-performance membranes. Her research explores the promising properties (e.g., fast water transport, thus lower energy consumption, highly stackable 2D nanostructure, amenable functional groups, and antibacterial properties) of the emerging graphene oxide (GO) nanomaterials to synthesize a fundamentally new class of water filtration membranes.  

Understanding Fundamental Fouling and Transport Mechanisms in Membrane Processes - 

The advancement of membrane technology is severely hampered by the long-standing problem of fouling, which is caused by the accumulation of foreign substances on membrane surfaces or inside pores. Fouling can seriously deteriorate membrane performance by lowering water permeability, worsening product water quality, increasing energy consumption, shortening membrane life, increasing operating costs, and, in an unsustainable manner, releasing chemical wastes from mandated cleaning process into the environment. Therefore, membrane fouling is a major obstacle to the efficient use of membranes. To address this critical issue, Mi's research team is integrating multi-scale experiments and molecular simulation to systematically unveil the molecular-level membrane-foulant interactions, which cannot be fully understood by either experimental or simulation approaches alone. This research provides keen insight into many membrane-foulant interactions and thus facilitates the development of efficient fouling-mitigation strategies and fouling-resistant membranes. They are also exploring the use of layer-by-layer assembly of polyelectrolytes and nanoparticles to fabricate biofouling-resistant nanocomposite membranes. 

Integrated Membrane System to Promote Water, Energy, and Environmental Sustainability - 

Mi's research group also strives to transform our membrane research and knowledge into real-world technologies that can promote water, energy, and environmental sustainability. Their research efforts in this area center on developing sustainable membrane processes for emergency water supply, water reuse, desalination, and sustainable energy harvesting. In the past few years, Mi's research has focused on newly emerging membrane processes, such as forward osmosis (FO), pressure retarded osmosis (PRO), and membrane distillation (MD). 
Sponsors of Mi's research include the National Science Foundation (NSF), U.S. Department of Energy (DOE), Environmental Protection Agency (EPA), U.S. Agency for International Development (USAID), National Water Research Institute (NWRI), and American Membrane Technology Association (AMTA).
Spotlights
No mentions in Spotlights