On April 28, the American Society of Civil Engineers (ASCE) hosted a banquet celebrating the end of the semester, and the department gave out undergraduate student awards to exemplary students recognizing their accomplishments in the field of Civil & Environmental Engineering through coursework and extra-curricular activities. It was a wonderful opportunity to recognize the hard work of our undergraduate students and the highlight of the event was celebrating everyone's achievements. We are thrilled to congratulate all the awardees on their well-deserved recognition!
Beavers Heavy Construction Scholarship
Created by Richard E. Hall and the Beavers Charitable Trust in 1990, this scholarship recognizes juniors, seniors, or master's students who plan a professional career in the heavy construction industry.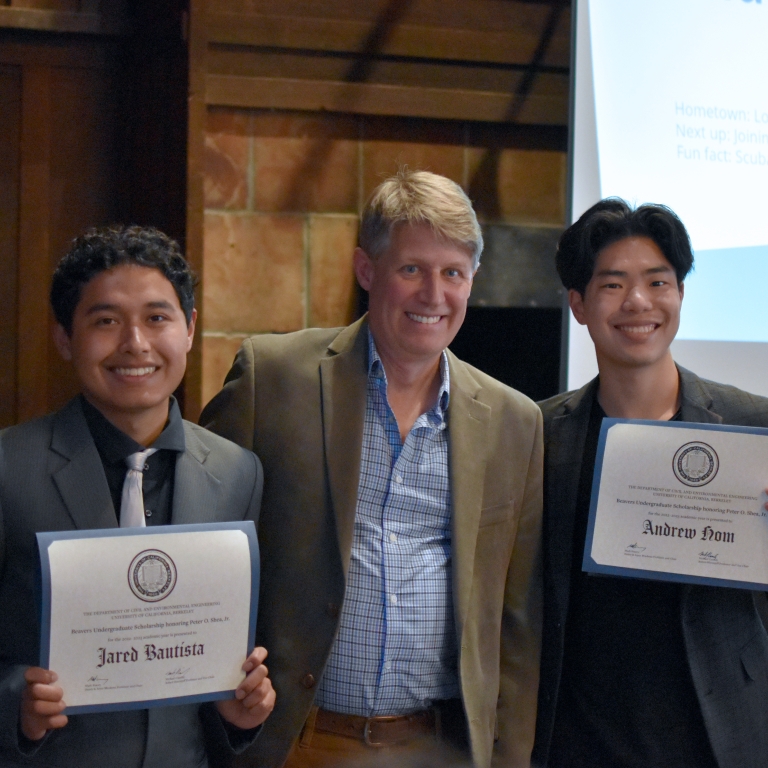 Chair Stacey presents the Beavers Heavy Construction Scholarship to Jared Bautista and Andrew Hom (left to right). (Photo Credit: Erin Leigh Inama).
Awardees:
Jared Bautista
The ASCE student chapter and civil engineering community helped me get back on my feet after dealing with the mental challenges and obstacles of the COVID-19 pandemic. I value my involvement with these communities as I enjoy meeting those in my community. I love the people, and I feel gratitude for all I achieved. I achieved belonging in a community and knowing I belong there.
Andrew Hom
Andrew is a senior studying civil engineering at Berkeley. In his undergrad career, he was heavily involved in Cal's ASC construction competition team for four years and served as  president his last year. After graduation, Andrew will be joining Turner Construction down in Los Angeles and is excited to enter the general contracting industry. 
---
Chevron Environmental Engineering Scholarship
Chevron has donated generously to our undergraduates, awarding scholarships to junior/senior students who have demonstrated their interest in environmental engineering through coursework, outside activities, and essays.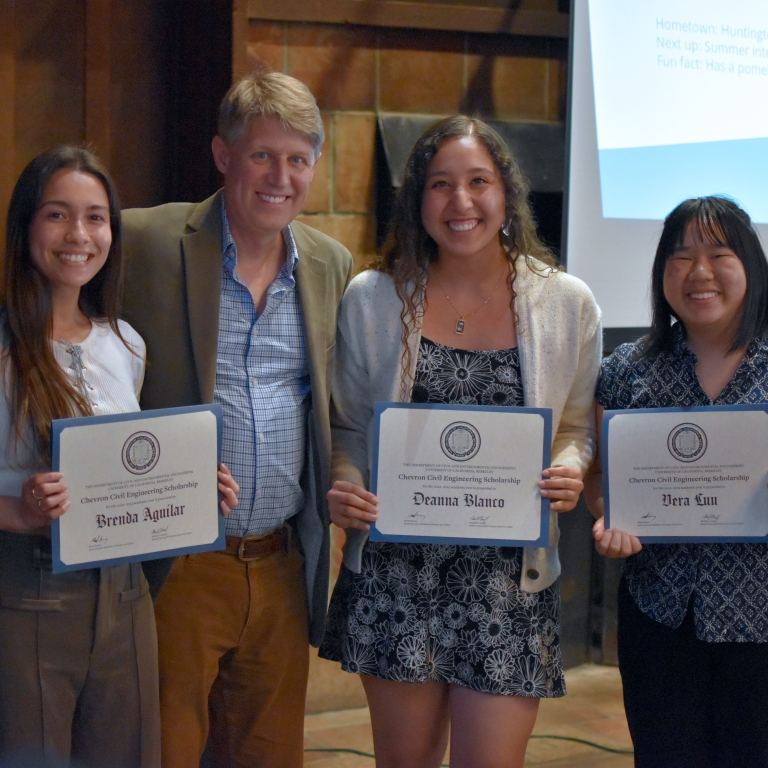 Chair Stacey presents the Chevron Environmental Engineering Scholarship to Brenda Aguilar, Deanna Blanco, and Vera Luu (left to right). (Photo Credit: Erin Leigh Inama).
Brenda Aguilar
Brenda Aguilar is a sophomore majoring in Civil Engineering at the University of California, Berkeley. She is from East Los Angeles, CA. She is actively involved in several student organizations, including Cal Concrete Canoe, Cal Seismic Design Team, Cal Habitat for Humanity, the Berkeley Mentorship Cohort, and the 2021 PREP Cohort. This summer, Brenda is set to work as an intern project engineer at Webcor. In her leisure time, she enjoys going on runs and exploring new books. Brenda plans to attend graduate school after obtaining her Bachelor's degree from UC Berkeley to further advance her career as an engineer.
Deanna Blanco
"Hello, my name is Deanna Blanco, and I am very grateful to have been selected for the Chevron Civil Engineering Scholarship. As a second-year Civil Engineering major here at UC Berkeley, I've been able to grow not only as a student but also develop my leadership skills to one day use this knowledge to create a positive impact in the communities around me and beyond. The CEE and COE department has connected me to resources such as the engineering competition team Steel Bridge, and ASCE, and led me to become a student assistant at the CAEE. These opportunities have furthered my passion for engineering and my community which is why my future career goal is to work at a Civil Engineering firm to develop innovative infrastructure for underserved communities. Thank you so much again for this award, and Go Bears!"
Vera Luu
"As a civil engineering undergraduate, I have found a lively and supportive community within the CEE department. This community is always willing to help in terms of professional development, advising, and academics. In the next year, as the incoming Cal Environmental Team Project Manager, I have the opportunity to explore interests in wastewater treatment as well as lead our team as we design a filter. Furthermore, through a research internship, I will implement data science skills to analyze the sustainability of water systems. Graduating in May 2024, I will apply concepts and standards taught at Berkeley as a future practicing engineer!"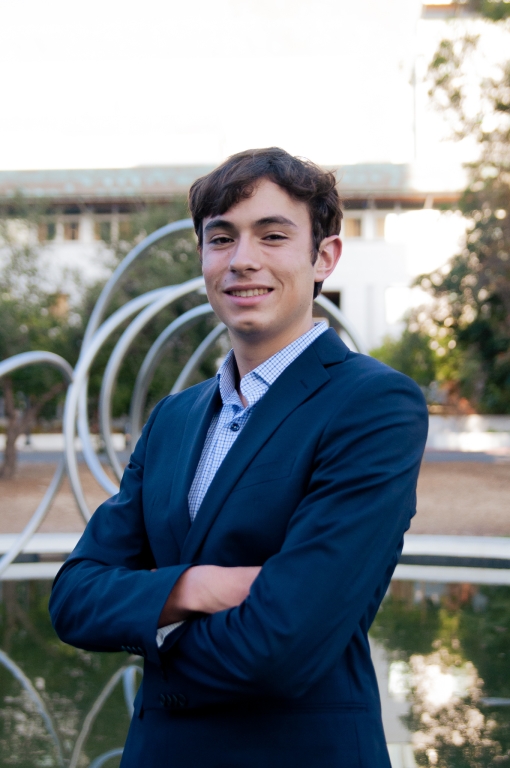 A headshot of Chevron Environmental Engineering Scholarship recipient Cal Holman.
Cal Holman
Cal Holman is a second-year Civil Engineering student seeking to minor in City Planning and Data Science. Last year he interned with the City of San Francisco, assisting with the engineering of paving projects. This semester, he studies at Carlos III University in Madrid, and upon return, he plans to intern for HNTB and assist with the engineering of transportation projects. In the future, he hopes to work on infrastructure projects which seek to balance human impacts on the surrounding ecosystem.
---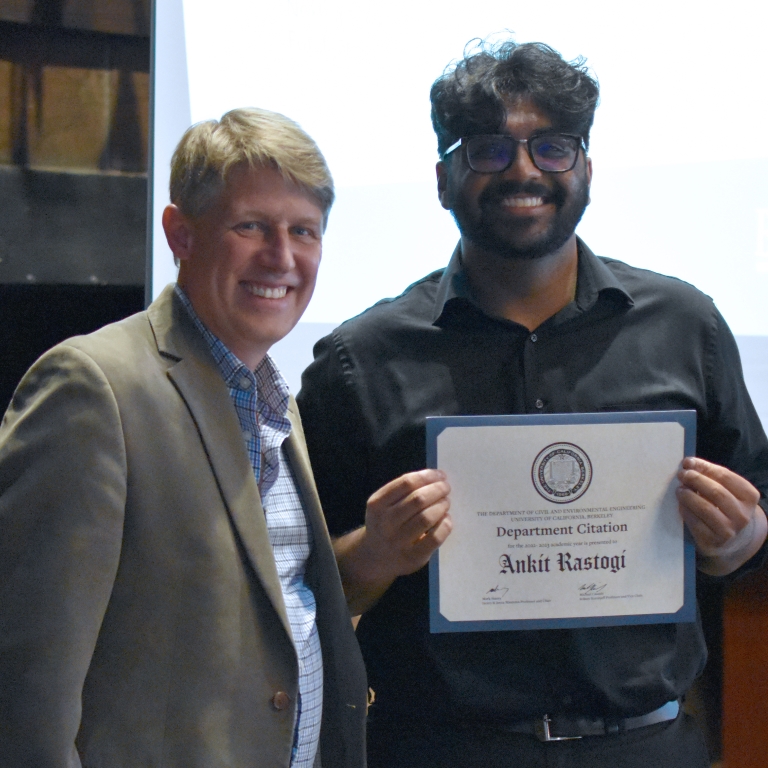 Chair Stacey presents the Departmental Citation to Ankit Rastogi (Photo Credit: Erin Leigh Inama).
Departmental Citation
The Departmental Citation in Civil and Environmental Engineering is an award recognizing undergraduate excellence in the field as demonstrated by a high GPA combined with service to the Department.
Ankit Rastogi
A graduating senior from the CEE department at UC Berkeley, Ankit Rastogi spent his past four years involved in the Cal Steel Bridge team as a design and drafting lead, the Chi Epsilon honors society as president, and research under Professor Ostertag on ultra-high performance concrete and alternatives to traditional rebar. He is extremely grateful for these opportunities provided by the department, as they have helped him learn and develop important skills outside of the classroom with regard to leadership and teamwork. Ankit has always valued the tight-knit CEE community at Berkeley, and he hopes to translate the perspectives he has gained from his time in the department into the workforce as an incoming full-time Field Engineer with Turner Construction in Southern California.
---
Charles G. Hyde Memorial Fund Fellowship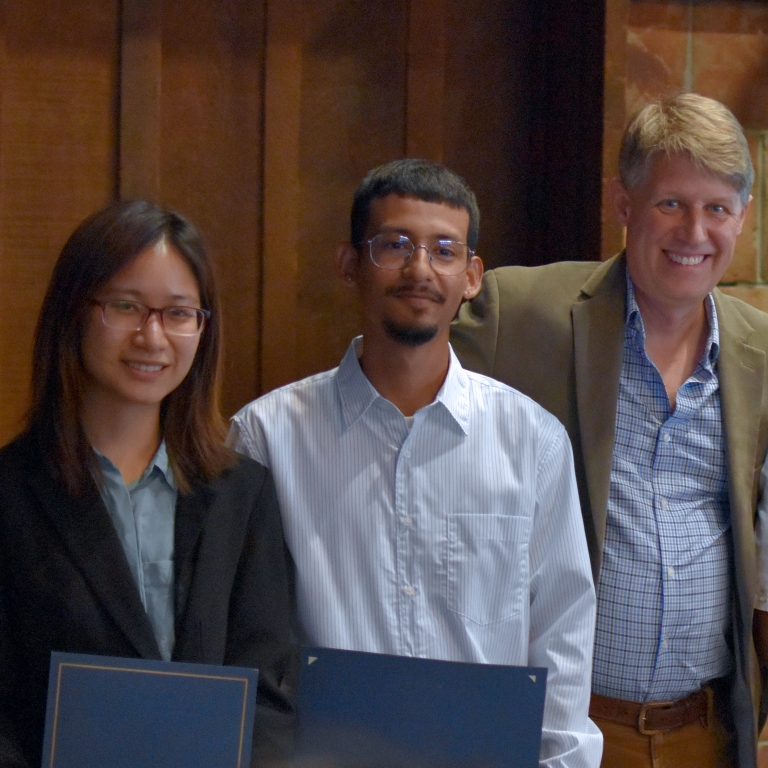 Chair Stacey presents the Charles G. Hyde Memorial Fund Fellowship to Phoebe Chen and Roberto Andrade-Moreno (left to right). (Photo Credit: Erin Leigh Inama).
Phoebe Chen
Phoebe Chen is a 4th-year civil engineering student with an emphasis on environmental engineering. During her undergraduate years, she was actively involved in Chi Epsilon and Cal Enviro. She plans on further exploring fluid mechanics and modeling related to water engineering in her graduate studies. In her free time, she loves baking, hiking, and traveling. It's one of her biggest travel goals to see the real Northern Lights in Alaska or Norway.
Roberto Andrade-Moreno
Roberto Andrade-Moreno is a California native born in Merced but raised in Long Beach. Roberto will earn his B.S. in Civil Engineering from UC Berkeley and is continuing in the Department of Civil and Environmental Engineering (CEE) at Berkeley to pursue an M.S. in Environmental Engineering. Roberto's interests include water and environmental resource management, water and wastewater systems design and operations, hydrology, and climate change adaptation/mitigation. Roberto also champions STEM education advocacy and leadership development targeted at underrepresented, minority, and first-generation students. As a student in the Department of CEE, Roberto has had the opportunity to connect with a diverse group of peers that share his passion for learning and the environment, and who have challenged him to do better. Roberto wishes to inspire his peers to lift one another and their community, as he was inspired to do the same as a new undergraduate student in the Department of CEE.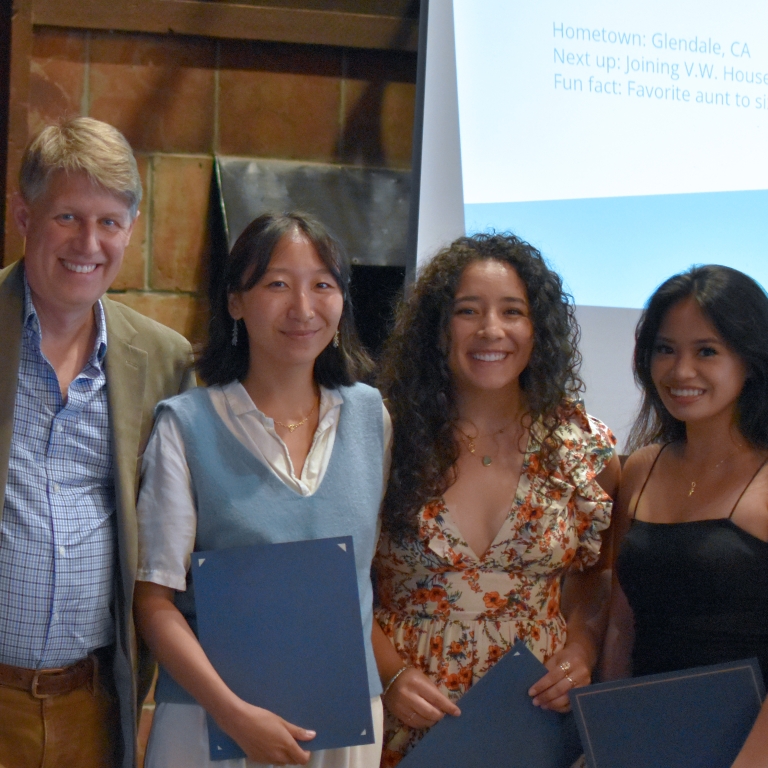 Chair Stacey presents the Charles G. Hyde Memorial Fund Fellowship to Christina Lang, Isabella Peter, and Jazmine Ramos (left to right). (Photo Credit: Erin Leigh Inama).
Christina Lang
Christina Lang (she/her) is a third-year Civil and Environmental Engineering student at UC Berkeley with an emphasis on water and wastewater systems. During her time at Berkeley, she was the lab manager of the Cal Environmental Team, a laboratory technician for the Wastewater Epidemiology for the Bay Area lab, and continues to conduct wastewater epidemiology research with the Nelson Lab. Christina is grateful for her community of engineers who share her academic interests and for the support of the UC Berkeley CEE department.
Isabella Peter
"I am currently a student in the Civil Engineering department at UC Berkeley. I have been doing research in fluid mechanics under Professor Evan Variano for the last two years and will be pursuing a Ph.D. in Civil Engineering at the Colorado School of Mines in the fall. The CEE department has truly shaped my passions and direction in my professional career. Without the mentorship, kindness, and obvious dedication that the CEE professors show the students, I would not be so inspired to pursue a career in academia. I truly appreciate everything that the CEE department does for their students; it really is amazing."
Jazmine Ramos
"My name is Jazmine Ramos, and I'm currently a 4th year, civil engineering student with an emphasis on water treatment and systems. As a freshman, I was already drawn to water, and with the unwavering guidance and support of the department, I was able to delve even deeper into my passion. This year, I had the privilege of serving as the Assistant Project Manager for the Cal Environmental team, which allowed me to develop essential skills to succeed as a Project Engineer at V.W. Housen & Associates starting in August. I am deeply grateful to the department for helping me achieve my goals, and am excited about the future that lies ahead!"
---
Carl W. Johnson Student Leadership Award
This award is named in honor of Carl W. Johnson, a Civil Engineering alumnus who valued his experiences at Berkeley and believed his time on campus shaped his character and his career. The award is given to recognize undergraduate students who lead competition teams or other student groups sponsored by the Department of Civil and Environmental Engineering, thereby helping to foster personal growth and professional development, an inclusive and welcoming sense of community, and team spirit among students in the Department.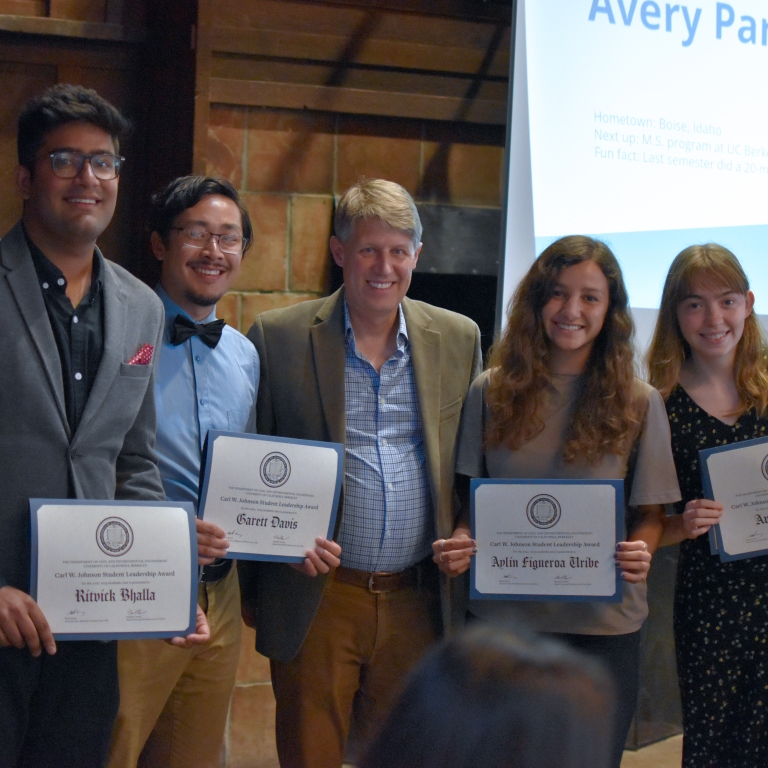 Chair Stacey presents the Carl W. Johnson Student Leadership Award to Ritvick Bhalla, Garett Davis, Aylin Figueroa Uribe, and Avery Park (left to right). (Photo Credit: Erin Leigh Inama).
Ritvick Bhalla
Ritvick spent his summers growing up with his grandfather, who inspired him to love innovation and develop a strong sense of philanthropic values. He explored creation in a plethora of ways, from making door buzzers and electromagnets to working on water level sensors. Alongside engineering, Ritvick spent weekends teaching underprivileged students music and photography. His experiences motivated him to achieve his goal of studying Civil Engineering at UC Berkeley to develop his understanding of the infrastructure sensing field as he aspires to grow his family business. As the Junior Project Manager of Cal Concrete Canoe, Ritvick's passion for precision building continues to push him to focus on new construction methods to ensure high canoe strength and floatation. Ritvick's purpose is to uplift his community; as president of the American Society of Civil Engineers, he has organized events, such as a coastal cleanup, a night market, and a clothing drive.
Garett Davis
"My name is Garett, and I am graduating senior. At Cal, I was President of our ITE (Institute of Transportation Engineers) Chapter, a member of our Transportation Design Team, Chi Epsilon, and participated in Cal Concrete Canoe and Cal Seismic. I will be pursuing my M.S. in transportation engineering at The University of Washington in the fall as a PacTrans Fellow. The CEE department has helped me grow as a student and as a leader for my community of civil engineers, and I am grateful for all the resources and staff they had to offer. I especially like the department's commitment to promoting equity, environmental justice, and ethical practices to a new generation of civil engineers. I especially want to thank my advisors and our department chair for their support of me and my fellow graduates these past four years. Go, Bears!"   
Aylin Figueroa Uribe
"My name is Aylin Figueroa Uribe, and I am from Cathedral City, CA. I have been a Peer Adviser for 3 years and have been involved with Hispanic Engineers and Scientists (HES) since I was a freshman. After graduation, I will study abroad in Spain in their Python and Data Science program. When that ends, I will start my full-time job as a Project Engineer with McCarthy Building Companies. This department has overall been very helpful to me throughout my undergraduate studies. By providing numerous and amazing opportunities, I have been able to excel and take advantage of everything that has been offered to us."
Avery Park
After completing my degree in Civil Engineering, I plan to stay at UC Berkeley to complete my Master's in Environmental Engineering. My primary academic interests are water quality, water technology, and climate-resilient infrastructure. Through CEE, I had many opportunities to conduct academic research in disciplines including sustainable infrastructure, wastewater epidemiology, ecology, and water quality. My experience in undergraduate research as well as my undergraduate environmental engineering coursework, inspired my path to study water quality engineering in graduate school and pursue innovative solutions to the many threats facing water systems around the world. I am grateful for the many professors and graduate students in CEE that provided me with mentorship, as well as to my peers in CEE for being great collaborators.
---
The Theodore Olsen Scholarship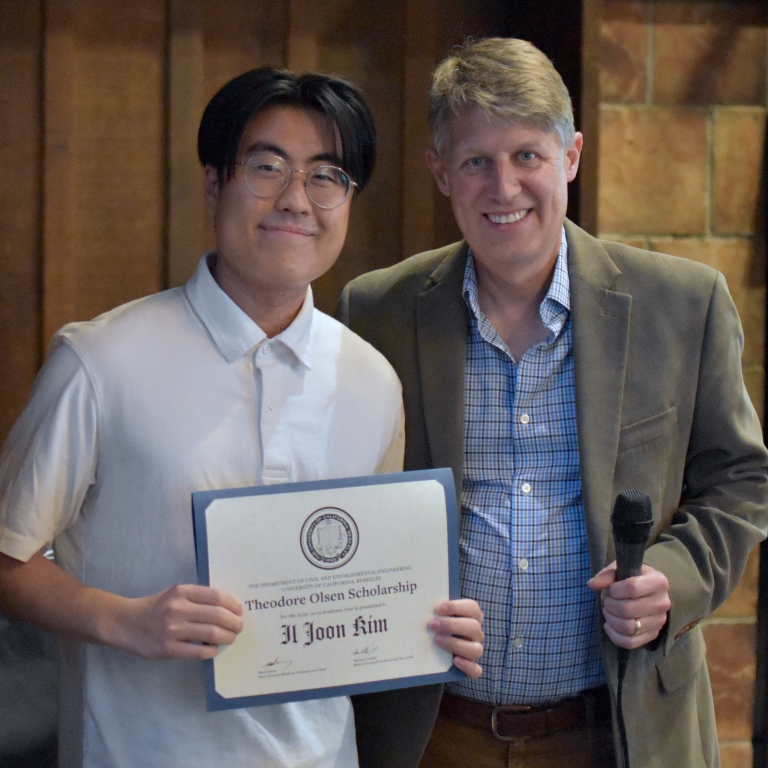 Chair Stacey presents the Theodore Olsen Scholarship to Il Joon Kim (Photo Credit: Erin Leigh Inama).
This scholarship was established in 2010 to assist a deserving junior or senior-level student majoring in Civil Engineering.
Il Joon Kim
"My name is Il Joon Kim, and I am graduating from UC Berkeley with a B.S. in Civil Engineering. I am interested in geotechnical engineering and will be continuing my studies at UC Berkeley by pursuing an M.S. in the GeoSystems program. I am fascinated by our earth and how we humans can build structures both under and above ground."
---
Tsuneo Sekine Fellowship 
This award was established to honor junior or senior-level students in the CEE program.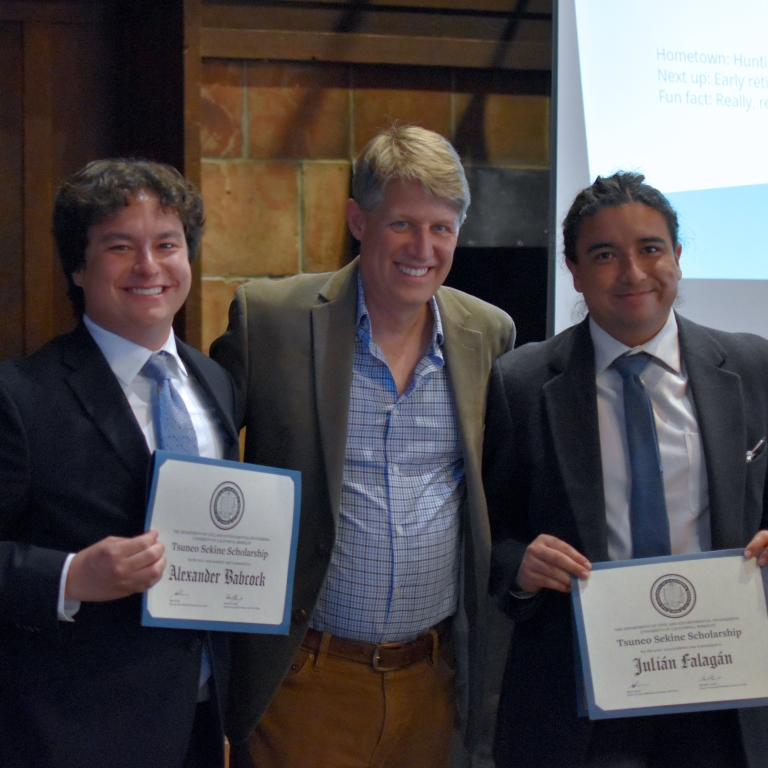 Chair Stacey presents the Tsuneo Sekine Fellowship to Alexander Babcock and Julián Falagán (left to right). (Photo Credit: Erin Leigh Inama).
Alexander Babcock
"My name is Alexander (Xander) Babcock, and I am a third-year Civil Engineering major. I am an active member in four civil engineering organizations, of which, I am an officer in three of them. I am a general member in ASCE, materials officer in Cal Concrete Canoe, technical lead in Cal Seismic, and sociability chair in Chi Epsilon. Being a part of the Civil and Environmental Engineering department has helped me meet incredible individuals and to broaden my horizons."
Julián Falagán
Julián Falagán is a graduating senior at UC Berkeley studying Civil and Environmental Engineering. His research experiences include electrochemical arsenic treatment in Ashok Gadgil's development engineering lab at UC Berkeley and genetically modifying microbes for environmental sensing with Ariel Furst at MIT. He leads his community in multiple organizations, serving as the head of the Concrete Canoe team and leading projects with Engineers for a Sustainable World. Julian is driven by the unequal environmental impacts on marginalized communities and seeks to soon leverage interdisciplinary microbiology research to update traditional paradigms in resource management, water systems, and contaminant remediation.
---
John C. Shimmick Scholarship
This scholarship was established in honor of John C. Shimmick, who received his B.S. in CEE in 1959, and as a student, he participated as a member of the Cal Bears football team. Generally, this scholarship is awarded to a junior or senior student who has a demonstrated construction or project manager emphasis, with consideration going to civil engineering students who are athletes.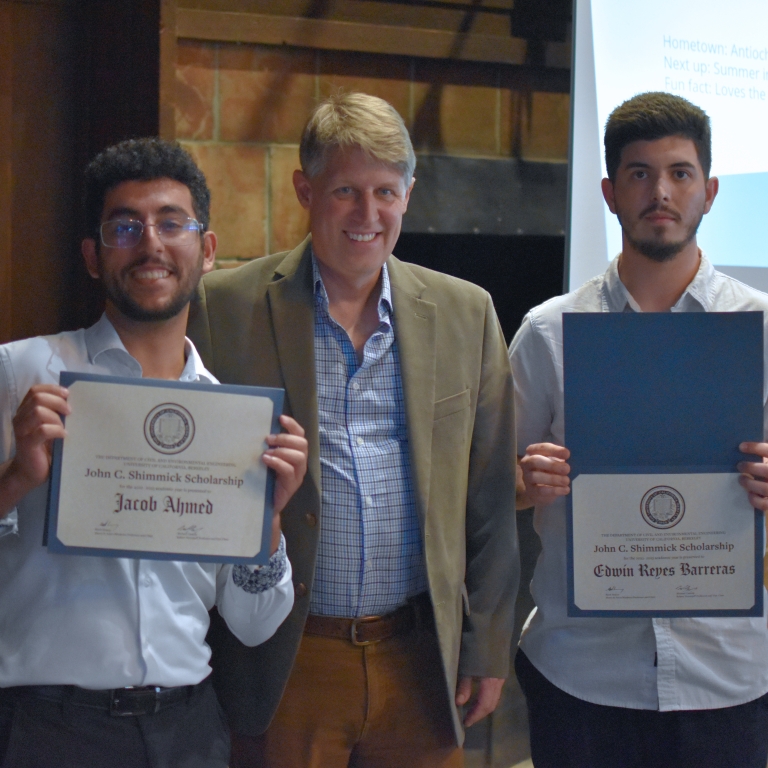 Chair Stacey presents the John C. Shimmick Scholarship to Jacob Ahmed and Edwin Reyes Barreras (left to right). (Photo Credit: Erin Leigh Inama).
Jacob Ahmed
"My name is Jacob Ahmed, and I am a junior at UC Berkeley studying civil engineering. Throughout my academic career, I have maintained a strong focus on achieving academic excellence, as well as developing practical skills and experience in the field of civil engineering. My coursework has included a broad range of topics such as structural analysis, engineering statistics, environmental engineering, and IOT (internet-of-things). In addition to my academic pursuits, I have been actively involved in several extracurricular activities and organizations at UC Berkeley because I believe that uplifting the community and participating in these organizations around you will improve and create an amazing environment for all incoming and present students to thrive and build onto each other's professionalism and preparation for their future careers." 
Edwin Reyes Barreras
"My name is Edwin Reyes Barreras, and I am a first-generation Mexican-American student from Oakland, California. I am the eldest of three kids, am twenty-two years old, and am a Civil Engineer major with a focus on Construction. My entire life has been surrounded by math and construction, with weekend projects with my dad at the house while growing up, engineering internships during high school summers, a construction internship during college, a structural engineering internship last summer, and a construction internship coming up this summer. My fifth-grade teacher inspired me and believed in me, telling me how one of the smartest people in high school gives a big speech at the end of the school year, how if you take all college classes in high school, you can earn a 5.0 GPA, and how the smartest people in the world go to UC Berkeley. Because of her words, motivation from family, friends, and other teachers, and lots of hard work and dedication, I was my class valedictorian, almost earned a 5.0, and am now at UC Berkeley."
---
Ulchi and Yoshiko Sunada Scholarship
This scholarship is awarded to a junior or senior student who has demonstrated commitment in the UCB chapter of ASCE, Chi Epsilon, or another engineering student organization or team.
Chair Stacey presents the Ulchi and Yoshiko Sunada Scholarship to Srishti Hazra. (Photo Credit: Erin Leigh Inama).
Srishti Hazra
"I am a 3rd-year Civil Engineering student minoring in Data Science and have been heavily involved in ASCE as Career Fair Manager and Historian, and am the next PM for the Steel Bridge Competition Team. I have been working to create a supportive and inclusive community through these clubs and act as the undergraduate representative for the department's DEIB committee, along with helping develop the pipeline of women/people of color/minority groups to engineering by volunteering with local K-12 schools to share the engineering/STEM experience. In my career, I want to work at the intersection of civil engineering with public policy, sustainability, and climate justice. Being a part of the CEE department at Berkeley has helped me find my friends, mentors, and professional network, and allowed me to build a strong community and feel a sense of belonging in my major and career."