Mission Statement
The Civil Engineering undergraduate program educates engineering leaders who will contribute to solving societal problems by improving the civil infrastructure, resource protection, natural hazard mitigation, and the efficient and sustainable functioning of engineered and natural systems in California, the United States, and the world. These objectives are achieved by:
Educating students with fundamental mathematical, scientific, and engineering knowledge to have a significant and positive long-term impact on the field of civil and environmental engineering.
Inspiring students and preparing them for successful professional careers, for further studies in high-quality graduate programs in engineering or other professional fields, and for a lifetime of learning.
Emphasizing the importance of professional and personal ethics, business and management leadership, and service to society.
Student Outcomes
CEE has adopted the following 11 specific student outcomes from the Accreditation Board for Engineering and Technology (ABET):
Ability to apply knowledge of mathematics, science, and engineering.
Ability to design and conduct experiments, as well as to analyze and interpret data.
Ability to design a system, component, or process to meet desired needs.
Ability to function on multi-disciplinary teams.
Ability to identify, formulate and solve engineering problems.
Understanding of professional and ethical responsibility.
Ability to communicate effectively.
Understand the impact of engineering solutions in a global and societal context.
Recognition of the need for, and an ability to engage in life-long learning.
Knowledge of contemporary issues.
Ability to use the techniques, skills, and modern engineering tools necessary for engineering practice.
Program Educational Objectives
The CEE Department has the following four Program Educational Objectives (revised 05/18):
To educate students in the foundations of mathematics and science and in the fundamentals of engineering relevant to a forward-looking vision of professional practice.
To inspire and prepare students for advanced study in top graduate programs in engineering and other fields, and for leadership and excellence in their professional careers.
To instill in students the need for life-long learning and for adaptability to confront societal-scale and global challenges with innovative, often multi-disciplinary solutions.
To emphasize the importance of business and management, and of serving society through leadership that improves quality of life, promotes environmental stewardship, and adheres to the highest ethical standards.
How CEE Core Courses Support Student Outcomes
CEE faculty have provided a mapping of student outcomes to each course using the notation of dark blue to represent extensive coverage and light blue to represent moderate coverage of topics that address each learning goal.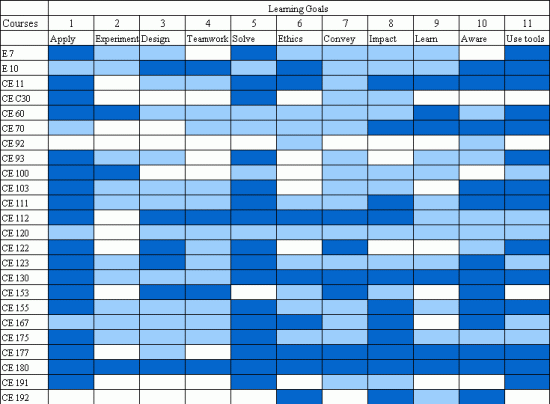 How Student Learning is Assessed
The CEE Curriculum Committee composed of faculty and student representatives evaluate four to six courses per year from the above list to verify that student objectives have been achieved. The review includes a discussion with the course instructors and a survey of homework assignments, laboratory experiences, projects, and examinations. The faculty member in charge of each course documents how student objectives for the course were achieved. This process feeds back to instructors and provides for an overall assessment of the curriculum on a continuing basis. The CEE Curriculum Committee reports annually on its deliberations to the faculty and to the department's Advisory Council. The documentation prepared for these reviews is used in future accreditation visits that occur on a six-year cycle.
Goals for CEE Students after Graduation
The BS degree program in Civil Engineering at UC Berkeley is designed to:
Prepare graduates for post-graduate education in engineering or other professional fields.
Prepare graduates to become licensed professional engineers.
Prepare graduates to become leaders in the civil and environmental engineering profession.
Census and Graduation Data
Student Matriculation Headcounts
| | | | | |
| --- | --- | --- | --- | --- |
| Class | 2018 Fall | 2019 Fall | 2020 Fall | 2021 Fall |
| Freshman | 111 | 97 | 71 | 66 |
| Junior Transfer  | 21 | 22 | 29 | 40 |

Degree Recipient Headcounts
| | | | |
| --- | --- | --- | --- |
| 2017-18 | 2018-19 | 2019-20 | 2020-21 |
| 85 | 97 | 76 | 90 |