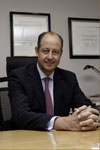 "Pursuing an education at UC Berkeley was one of the most important and correct decisions I have made in my life. The experience granted me the possibility of looking at the world and its opportunities from a global perspective. Learning world trends enabled me to 'open my mind' and search for more efficient and better ways to get things done in the new world economy. At Berkeley, knowledge interchange between multi-cultural student peers and professors gave me a whole new meaning to my personal learning process. Briefly: Berkeley education: don't leave home without it!"
Hipolito Gerard earned his Berkeley Master in Engineering degree in 1991 and is the founder and Chairman of the Board of the GIA Group, one of the largest design-build construction companies in Mexico.
 

"My education through the Berkeley Engineering & Project Management Program has been invaluable to my career—the local and international networking, the real-world, project-orientated class assignments, and the outstanding instruction set my career path on the highest possible trajectory! Go Cal!"
John Bliss is Vice President of SCI Consulting Group, a public finance and urban economic consulting firm for public, non-profit and private sector. At SCI, Mr. Bliss has led political efforts to establish revenue mechanisms for various types of infrastructure financing throughout California.